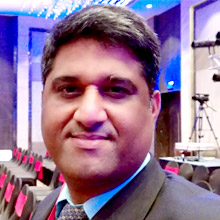 Ritesh Bhatia is a well known Cybercrime Investigator and Cybersecurity and Data Privacy Consultant with an experience of 20 years in the cyberspace. He is a two time TEDx speaker and a Certified Fraud Examiner from ACFE, USA, and is popularly known for his cybercrime Investigations. He has been successful in solving many cases for large corporates, organisations, law enforcement agencies, celebrities, and individuals in India as well as abroad. One of his most successful cases on busting a WhatsApp group that was circulating child sexual abusive material was well appreciated not just by the Indian police but also by Interpol. Ritesh also played the role of his real-life self as a cybercrime investigator in MTV's award-winning show - MTV Troll Police.
He is on the board of many companies, serving as a cybersecurity consultant and auditor. He has been instrumental in securing systems and critical business information from cyber attacks. His key areas of interest include Cybercrime Investigations, Infrastructure and Data Protection, Security Audits, Risk Assessment, Business Continuity, New Age Cybercrimes, Dark Web and Digital Forensics. His views on trending cybercrimes and cybersecurity have been published by many national publications including Times of India, Indian Express, Hindustan Times, DNA, Mumbai Mirror, Mid-day, The Week, Open Magazine, and many other regional newspapers . He frequently educates citizens of the latest in cybercrime on radio channels such as Radio Mirchi, Radio City, Big Fm, etc and also on national television channels such as NDTV, ET Now, Mirror Now, CNBC, Zee, Aaj Tak, NewsX, etc. He has also been interviewed by international media houses such as BBC and Canadian Broadcasting Corporation.
Ritesh has been a very sought after speaker to discuss issues related to new age cyber crimes, the dark web, mobile security, data privacy, cybersecurity, and prevention. He has also been a distinguished speaker at over 100 national and international conferences. He is a well-known trainer and has trained employees of many small and large organisations including RBI, Anti Narcotics Cell, Economic Offences Wing, Indian Air Force, State Police, leading corporate houses, national and international banks, schools and colleges. Some of his well-known clients include SBI, TransUnion Cibil, Mashreq Bank, Larsen and Toubro, Future Group, Reliance Industries, Canara Robeco, ITC, Byjus, Asian Paints and many more.
Along with his partner, Nirali Bhatia who is a cyberpsychologist, Ritesh has formed an anti cyberbullying organisation called Cyber B.A.A.P. which stands for Cyber Bullying Awareness, Action and Prevention.
Services
Cybercrime Investigations

Darknet Research and Investigations

IT Security Audits

Implementing Information Security Management Systems (ISMS)

Digital Forensics

Cyber law consultancy

System hardening

Software Compliance and Dispute Resolution for Microsoft, Adobe, Autodesk and others

Infrastructure and Data Security

Source Code Review and Application Security

Cyber Security Awareness, Drills and Training

Vulnerability Assessment and Penetration testing

Business Continuity and Disaster Recovery
Cybercrime Cases Investigated
Business Email Compromise Scams, CEO frauds, Man-In-The-Middle Attack

Ransomware, Phishing

Identity Theft, Spoofing

Data Theft, Source Code Theft

Sextortion, Revenge Pornography, Romance Frauds, Sextortion Scams

Digital Wallet Frauds, OLX Scams

Child Sexual Abuse Material

Cyberbullying, Cyber Harassment

Website Attacks, SQL injection, Cross Site Scripting, Domain Squatting
Technical Certifications
Certified Fraud Examiner - ACFE, USA

Certified Cyber Forensics Analyst

Certified Ethical Hacker - EC Council

Diploma in Cyber Law - Government Law College, Mumbai

Certified Privacy Lead Assessor - DSCI

Data Privacy Professional - DSCI

ISO/IEC 27001:2013 Lead Auditor

ISO/IEC 27001:2013 Lead Implementer
Faculty
Visiting Faculty at SP Jain School of Global Management - Dubai, Mumbai, Singapore and Sydney

Industry Representative - Departmental (Cybersecurity) Advisory Board of Shah & Anchor Kutchhi Engineering College, Mumbai

Visiting Faculty at Mumbai University, Kalina Campus
Awards
Zee Indian Telly Awards - MTV Troll Police

Best Youth Show in Non Fiction Category

20 Most Trusted Cybersecurity Companies in India

Honoured under "20 most trusted Cybersecurity companies in India" by The Global Hues for the incredible contribution in the Cybersecurity sector

The "CYBER CRIME HELPLINE AWARD 2018"

Awarded in the category Fortune Hunters of Digital India (Cybercrime Investigations) by DTF Pune. This award honours individuals and companies that demonstrate excellence, innovation and leadership in Financial Fraud, Cyber Crime Investigation, Insurance, Risk Assessment, Computer Forensic, Legal, Compliance, Audit, Information Security, Technology, and Law Enforcement.

The Best Individual For Creating Cyber Security Awareness

Conferred the award by Computer Society of India on 7th October 2017 at CSI IT 2020 Conference
TEDx Talk
TV Shows
Theatre / Drama
TV Interviews - National ( - 168 Videos )
TV Interviews - International
Radio and Podcasts
Trending Cybercrimes

Rj Archana on Kasa Kay Mumbai - 2

nd

January 2020
FaceApp Security and Privacy Issue

Rj Abhilash - 17

th

July 2019
Facebook Cambridge Analytica Issue

22

nd

March 2018
Wanna Cry Ransomware Prevention

Rj Prerna - 17

th

May 2017
Wanna Cry Ransomware Awareness

Rj Suren - 16

th

May 2017
Press Articles - National ( - As seen in newspaper | - Link to online article )
Press Articles - International
Testimonials
(520 Reviews)
Ayush Saraswat
Ritesh Bhatia Sir, is a truely professional Cyber Security Consultant cum Investigator, His knowledge is excellent on the subject of Cyber Security Investigations. He made me actually comfortable, when I contacted him for one of my Cyber issue, He understand my entire issue in a very friendly behaviour & provide me the solutions for the same. He is very highly qualified in his field and very humble person. It was a satisfactory conversion with him and now I can feel relaxed. Thanks a lot Sir.
Sooni Taraporevala
I have known & worked with Ritesh Bhatia for the past 20+ years. He is always eager to help, honest & a lovely person besides being very knowledgable in whatever field he chooses to be in. He has designed & maintained my websites & now that he is in cyber security he is very helpful in how to keep safe online. I am very impressed at his going from strength to strength.
Yukti Kapoor Mehandiratta
Ritesh Bhatia is not only a renowned cybersecurity investigator but also an inspiring speaker who believes in taking everyone along. His knowledge and willingness to keep learning makes him an expert in his subject. Kudos!
Gayatri Nirmal
Got to know Mr. Ritesh Bhatia at the time when I was going through major crisis. He helped me out in all possible ways and chased the case until end. His immense knowledge in cyber crime cases and the zeal to solve them is what sets him apart. Takes immense pride to see his contribution in reducing cyber trolls and making a difference to the society.
Vijay S
Ritesh Bhatia Sir, has been a great help to me with the issue I had. His knowledge is excellent on the subject of Cyber Security Investigations. He is One Stop Shop for all Cyber Security Investigations. He made it so easy for me to understand the entire issue & also the solutions available in Cyber Security investigations. He is Committed to his profession & has a very systematic approach towards the problem. He is Humble & No Nonsense Person when it comes to professional know-how. Ritesh Sir, it was a real honor getting to interact with such an highly qualified & knowledgeable cyber security professional.
Seminars & Conferences
Panelist - "Real life case studies on online harassment of women: Cyber bullies and Cyber criminals" at a seminar organised by United Nations and DSCI, New Delhi

International Speaker - - "Challenges in Dark Web Investigations" at Fraud Conference Middle East, organised by ACFE and ADAA, Abu Dhabi

Panelist - "Cybersecurity - From Indo-Israel perspective" organised by the Consulate General of Israel in association with Maharashtra Cyber

Guest Speaker - "Darknet Threat Intelligence and Investigations" at an in-house event organised by Larsen & Toubro, Mumbai

Panelist - "AI based cybercrimes and security" at a seminar organised by ISACA Mumbai Chapter

Keynote Speaker - "Dark Web" at Defence Institute of Advanced Technology's Conference organised by DRDO, Ministry of Defence, Pune

Guest Speaker - Cybercrimes for Bankers and Technology for Data Protection at National Judicial Academy (NJA), Bhopal
Awareness and Training
Corporate Trainings
HDFC Ltd.

Canara Robeco

SBI

Cibil Transunion

Mashreq Bank

ICICI Lombard

Bank of India

Barclays

Orleikon

Tamboli Castings

Blossom Industries

Khemani Group

Larsen and Toubro
Defence & Law Enforcement
Indian Air Force

Economic Offences Wing, Mumbai

Anti Narcotics Cell, Mumbai

Crime Branch

Sri Lankan Police

Maharashtra Cyber

Maharashtra Police

Chattisgarh District Police
International
Mashreq Bank, UAE

Dubai Govt

Abu Dhabi Govt

Cyprus Govt
Not For Profit Organisations
Lions Club

Rotary Club

Ficci Flo

UN Women

UNCIEF India

IAPP, Pune

CFBP

Mahrashtra Youth Entrepreneurs

ABVP

ISACA

CSI
Educational
Amity University

Ecole Mondiale

IIT Delhi

IIT Mumbai

KJ Somaiya College

Mumbai University

Sophia's
Chetana College

Lala College

NMIMS

Lilavati Podar School, Mumbai

Bhavan's SPJIMR

SP Jain School of Global Management
COEP, Pune

MET Mumbai

SNDT

Xavier's College

SIES

SVVV, Indore
Singhad College of Commerce

SIA College

Universal College of Engineering

AVM, Juhu
Memberships
Association of Certified Fraud Examiners

Federation of Data Privacy Professionals of India

Data Security Council of India

Computer Society of India

Council For Fair Business Practices
Contact


+91 79 7713 7718 (WhatsApp only)